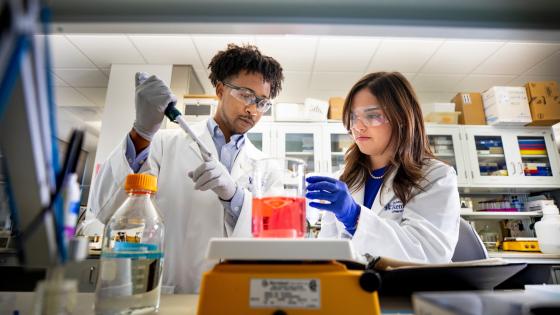 Health Care Majors and Careers at UK
Boldly Determined to Make a Difference  
At the University of Kentucky, we pride ourselves on meeting the moment.
Regardless of how daunting the task.
Regardless of how audacious the dream.
Regardless of how difficult the circumstances.
Here, commitment, hard work and determination runs through everything we do.
This was never more apparent than when a pandemic changed the world, and as a result, changed us and how we educate the next generation of health care professionals.
How?
We took full advantage of having sixteen degree-granting colleges—six which focus on health care, a world-class academic medical center, a leading Rank 1 (R1) research enterprise all on a single campus. Through an extraordinary level of collaboration, we discovered and we educated. We served and we healed. We brought ingenuity from every corner of our campus.
With a breadth and depth of academic offerings here, you can take advantage of a wide array of undergraduate and graduate degrees that put you on the path to a successful career in health care.
We invite you to join us and become a determined doer, a bold dreamer.  
Let us know your academic interest and we will connect you with the appropriate health care leader.
I AM AN UNDERGRADUATE DEGREE SEEKER
I AM AN ADVANCED DEGREE SEEKER