Transfer Admission Deadlines
 
Application Deadline
Scholarship Deadline
Fall

Application Deadline

July 1

Scholarship Deadline

June 15

Spring

Application Deadline

November 15

—
Summer

Application Deadline

April 15

—
The Transfer Credit Tool is designed to allow students to see how the credits they've earned at another institution(s) will transfer to UK to complete their four-year degree.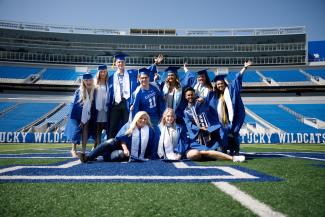 Transfer Tuesdays
If you apply to UK on a Transfer Tuesday for the upcoming academic year, we'll waive your $50 application fee! All you have to do is fully submit your application on any of the Transfer Tuesday dates below. Contact us with any questions!
Steps to Verify Your Fee Waiver
Fill out your application to the University of Kentucky and click Submit.
That's it! We'll take care of waiving your fee from there, as long as you fully submit your application on a Transfer Tuesday date.
Please note: You must submit your application to UK on a Transfer Tuesday for your application fee to be waived. Your fee may not automatically be reflected as waived in your application portal, but if you applied on a Transfer Tuesday date, your admission officer will take care of waiving your fee when they process your application.
Additionally, you must be applying to UK as a transfer student; if you are a freshman, readmitted student or non-degree applicant, this promotion will not apply to your application. Please contact admissions@uky.edu with any questions about fee waivers for those application types.
Upcoming Transfer Tuesday Dates
August 29
September 12
September 26
October 10
October 24
November 7
November 28
Contact the Transfer Team
The University of Kentucky Transfer Admissions office is dedicated to your success as a current or prospective transfer student. If you have any questions about the transfer process, please contact us!
Transfer Visits
Come and visit our beautiful campus to see what being a Wildcat is all about! Join us on select Fridays for special Transfer visit sessions and campus tours.
Transfer Housing at UK
Living on campus is a great way to get immediately connected to the campus community and is increasingly the preferred choice of new and returning students. Students are encouraged to apply to housing early; you may apply to housing as soon as you've been admitted to UK. UK offers a transfer-centric Living Learning Program - Transfer Year Experience. The program is designed to support transfer students through their transition to the university and connect them with fellow students, faculty and staff for additional support.
Admitted Students
Welcome to the University of Kentucky! Our community of students, staff and scholars is ready to support and challenge you to succeed beyond what you ever thought possible. Take these important steps to confirm your spot in the Big Blue Nation.