Transferring courses to UK?  We're here to help in identifying transfer equivalencies for courses completed at other institutions. Updates are made to this information on a daily basis as additional courses are evaluated for equivalencies. After admission to UK, it can take between three to four weeks for coursework from previous institutions to show up on your student record.  UK equivalencies are subject to change at any time without notice upon official evaluation by the academic department. 
To apply transfer credits to the UK student record students must send official copies of all transcripts from previous regionally accredited higher-education institutions to the Office of Undergraduate Admission. 
We have a dedicated transfer equivalency team ready to assist with any questions! 
The Transfer Credit Tool is designed to allow students to see how the credits they've earned at another institution(s) will transfer to UK to complete their four-year degree.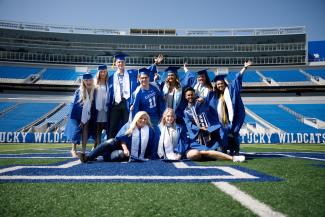 Domestic Equivalencies (TES)
UK uses a database called the Transfer Evaluation System (TES) to maintain our course equivalencies with other institutions. Click the button below, and then search your previous institution(s) by name. Click the arrow next to your chosen college, and from there, you can search each of your course codes to see how your work will transfer. 
International Equivalencies
Click the button below, and find your institution in the drop-down menu. From there, you can see all the established equivalencies we have for that institution.
Decoding Transfer Transcripts
As you look over the information on your unofficial UK transcript after you've been admitted to UK, you will see a lot of potentially confusing codes. Don't worry: We've got them all broken down for you on this handy guide to decoding your UK unofficial transcript!
Course Equivalency Requests
Current undergraduate UK students can request course equivalencies from other institutions by filling out the request form. Before submitting this form, please check if your course already has an established equivalency in our online database. If you're not sure if your course is already equated or if you have additional questions, please contact the Transfer Center at uktransfer@uky.edu.
Please note that if your unofficial transcript currently reads NEEDEVAL for a course equivalency, you do not need to fill out this form. Our office is already working with the Directors of Undergraduate Studies across campus to equate those courses for you! This form is primarily for current UK students who are looking to take summer courses from another institution and want to ensure the courses transfer in as needed here at UK. 
If your unofficial transcript has any courses with an equivalency of NEEDSYLL, you'll need to send a syllabus to uktransfer@uky.edu for that course. 
Transfer Equivalency Appeal
Students who wish to appeal the evaluation of transfer equivalencies may do so through the appropriate UK department head. Equivalencies can be domestic, international or military credit, and they are determined by the Directors of Undergraduate Studies in the various academic departments across UK or their designated representatives. When making an appeal, students must provide supporting documentation, such as a course syllabus or examples of coursework. Department heads who wish to approve a revision to a transfer equivalency must inform the Transfer Admissions Office by email at uktransfer@uky.edu. 
UK Core Exceptions
If you have taken a course at your previous institution that you feel should count for general education credit at UK, you can petition the UK Core Exceptions Subcommittee to have that course reconsidered for general education credit. That petition is online here, and you will need to provide a course syllabus as part of its submission, as well as an explanation of why you think your previous course should fulfill a UK Core requirement. After you have submitted a petition for a UK Core exception and you've received a decision, you can appeal that decision by filling out this form. (This is not the initial appeal form, so please only fill this out after you have received a decision on your course from the UK Core Exceptions Subcommittee and you would like to further appeal it.) 
Please note that if you are requesting an exception for a college requirement (Arts and Sciences or Business and Economics, for example), then you will need to contact your college's main advising office rather than pursue a UK Core exception. Your academic advisor can assist you with any questions.