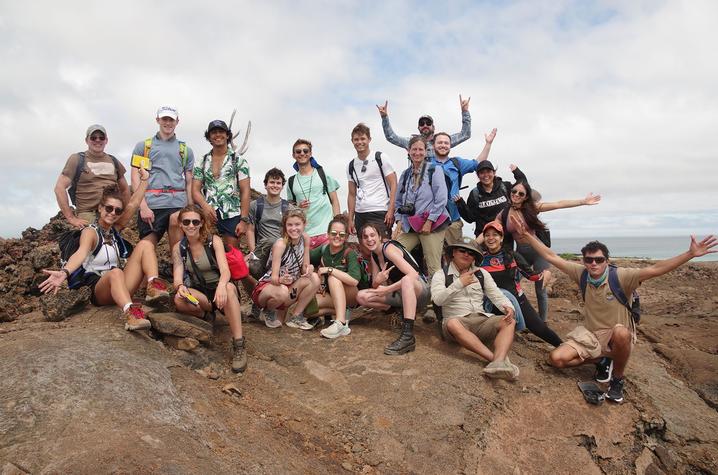 Galápagos Islands Program Engages Students in History and Evolution
LEXINGTON, Ky (July 26, 2022) — Education abroad programs help students grow academically and personally by immersing them in global dimensions of their academic discipline while introducing them to different cultures.
These programs also enliven education by connecting a field of study to a particular place, allowing students to experience that connection firsthand. For students interested in ecology, there really is no better place to connect to than the Galápagos Islands.
This summer, Jim Krupa, UK biology professor, led a course on the evolutionary ecology of the Galápagos archipelago.
"The life on the islands is almost otherworldly," said Krupa. "The students are absolutely shocked and amazed when they arrive. It's incredible to see their reactions."
The Galápagos Islands, while hosting some of the rarest life forms on earth, also hold a deep historical connection to the study of evolution. In 1835, Charles Darwin famously visited Galápagos, and his findings would eventually lead him to write "On the Origin of Species" and introduce the study of evolution.
Krupa has been fascinated by the Galápagos Islands since completing his doctoral work. His advisor, Charles Carpenter of the University of Oklahoma, was a trailblazing researcher on animal behavior of Galápagos creatures and encouraged Krupa to pursue research on the islands. That fascination has come full circle, as Krupa had the unique opportunity this summer to introduce his students to the wonders found on the islands.
Many of the world's most unusual plants and animals call the Galápagos Islands home. Students witnessed these species firsthand, including the famous Galápagos giant tortoise, which can weigh more than 500 pounds, and the Galápagos marine iguana, which can grow to almost six feet long.
In the Galápagos Islands, students spent their time island-hopping and studying the plants and animals, keeping hand-written field notebooks along the way, much like Darwin. Krupa has been keeping field notebooks on his research for 45 years.
"It encourages the students, and me, to always be engaged, always be thinking," said Krupa.
For UK senior Elie Tierney, the program was the perfect education abroad opportunity. A biology major and Spanish minor, she utilized and enhanced skills learned in both of her majors.
"What I didn't expect was the language component," said Tierney. "I've been studying Spanish in the classroom but going abroad and having to hear and speak Spanish every day with native-speakers took my abilities to the next level, and I felt so much more confident in myself."
While education abroad programs give students the ability to utilize skills learned in the classroom in a real-world environment, they can also help students narrow down their career aspirations.
"Before the program, I was constantly switching between what exactly I wanted to do," said Tierney. "I was stuck between a few options. But Galápagos solidified it for me. I know now that ecology is my calling."
Tierney now plans to apply to graduate schools to study ecology.
Many participants in the program also had the opportunity to stay with a host family while on Galápagos. For Tierney, this was a particular highlight of her studies.
"They welcomed me as one of their own," she said. "They were so kind and giving of their time. It helped fully immerse me in the culture of the place. I still talk with my host family, even as I've returned to the U.S."
After returning, Krupa was amazed at the change he saw in the students.
"They fully engaged with the place, and I saw that throughout the trip," he said. "When they returned, I could sense a shift in how they thought about not only the subject matter covered in the course but many other topics they considered while traveling through a different country."
Krupa looks forward to taking future groups of students to the Galápagos Islands and introducing them to evolution firsthand.