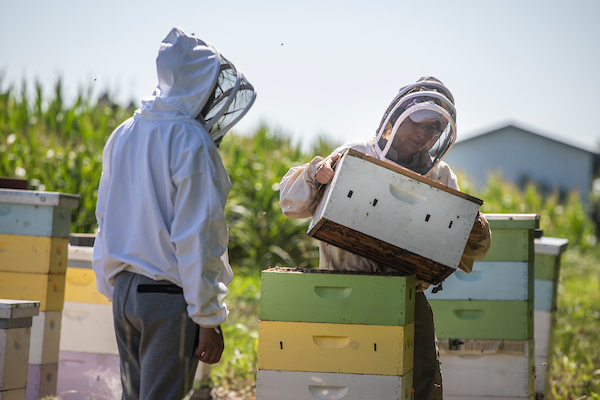 'That's why we're here' — UK researcher invites undergrads to the lab
LEXINGTON, Ky. (Oct. 17, 2022) — For Clare Rittschof, Ph.D., introducing University of Kentucky undergraduate students to research starts by giving them access and experiences in her lab.
"I think it's news for a lot of students that professors run research labs," said Rittschof, associate professor of entomology in the University of Kentucky College of Agriculture, Food and Environment. "A lab is a physical space but it's also a group of people. I have a revolving door policy with undergraduates because, to me, giving them a chance to be in a lab is really important. That's why they're on campus, that's why we're all here."
One of those undergraduate students is Abdallah Sher, a sophomore neuroscience and computer science major from Hazard, Kentucky, who was selected for the 2022 Commonwealth Undergraduate Research Experience (CURE) Fellowship program.
Sher, who has long held a passion for science, but wasn't sure how that would translate into a future career. 
"If you want to become a scientist, people don't really tell you how to do that in high school," said Sher. "It's kind of like, 'oh you want to do biology, I guess that means you have to be a doctor,' but there's so many people behind the scenes doing important work."
As a result of Rittschof's work, she recently earned the National Science Foundation's (NSF) prestigious Faculty Early Career Development (CAREER) Award for her project titled "Signal to Noise: How Complex Social Information Regulates Brain Genomics and Behavior."
The relationships formed during this experience in her lab opened his eyes to all kinds of possibilities. 
"Coming into contact with Clare and all of these graduate students that she has in her lab, it's like all of a sudden here is a group of people that want to do that exact same thing and they want to help me get to a place where I can do that," Sher said. 
Watch the video feature to hear firsthand from Sher and Rittschof about their research.