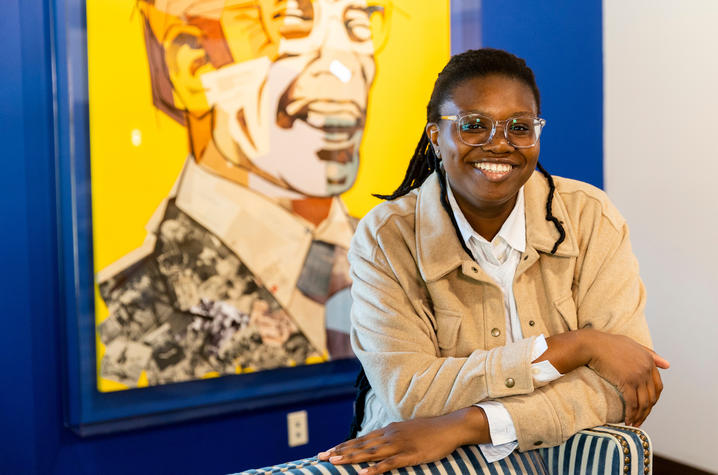 'There's so much more to learn' — UK student Princess Agbozo blazes her own trail
LEXINGTON, Ky. (Dec. 1, 2022) — Originally from Ghana, first-generation student Princess Magor Agbozo came to the University of Kentucky with a desire to help others.
"Growing up in Ghana, I experienced firsthand family members that were ill and not getting the appropriate health care," Agbozo said. "This is what originally boosted my passion for public health. In my career, I want to make sure that everyone has equal access to quality health care."
***
Upon arriving in Lexington, Agbozo had to learn about a completely different country and culture. She credits the International Center on campus for helping her get acclimated to a new environment and community. 
"They actually came to pick me up at the airport and showed me around Lexington," Agbozo said. "This showed me that UK is more than just a school, it's about family. I consider UK to be my second home now." 
Now a junior in the UK College of Public Health (CPH), Agbozo feels that she has grown over the past few years as a student.  
Currently serving as a resident assistant, a rising leader in the Lewis Honors College, an international and CPH ambassador, and director of multicultural affairs for the Student Activities Board, Agbozo works to serve others, especially those with diverse backgrounds. 
Agbozo is also a SPARK (Students Participating as Ambassadors for Research in Kentucky) scholar and is currently conducting research on health equity based on the childbearing experiences of Black mothers in Kentucky.  
Her goal is to identify and understand consistent themes surrounding the experiences of Black women during maternity, and to recognize common implicit biases health care workers have about Black women. Agbozo wants to find the best methods of care, preferred and requested, to better Black mothers' overall childbearing experiences.
"I've learned that public health is more than just advocacy, it's about action," Agbozo said. "There's more to learn and I'm extremely excited for the future. I want to continue to support people, educating myself and others, and continue to keep each other healthy."
In honor of her accomplishments and passion for health access, Agbozo was named a recipient of the 2022 Lyman T. Johnson Torch Bearer Award on behalf of the UK College of Public Health.
Named after civil rights pioneer and the first Black student to attend the University of Kentucky in 1949, the Lyman T. Johnson (LTJ) Awards are given to Black members of the UK community whose faith, hard work and determination has positively impacted the lives of people on campus, the city, state or nation. 
Agbozo recalls walking by the Lyman T. Johnson portrait in Johnson Hall on UK's campus as a resident and wanting to learn more about his legacy.
"Lyman T. Johnson gave me the opportunity to be here today," Agbozo said. "We need to continue to uplift the voices and recognize people like us. I'm incredibly grateful to see recognition, like this, for people of color."
When asked what this recognition means, Agbozo said the first thing she thought of was being a true "health champion."  
"I never heard the term 'health champion' until I came here to the College of Public Health," she said. "This recognition and award inspire me to go above and beyond. There's more work to be done in public health and I want to continue to do my part in educating and helping my friends, family and my community." 
Agbozo intends to apply for the 4+1 program this year at CPH and pursue her Master of Public Health (MPH) degree. Afterwards, she is planning to apply to medical school.
Professionally, she wants to work in global health and improve health care accessibility for impoverished and underserved communities.
Going forward, Agbozo plans to continue to speak her mind, voice her opinions, challenge the system, speak up for those who can't speak for themselves and be resourceful to others who need help.
She also recognizes she wouldn't be here without her two biggest influencers — her parents — who both live abroad in Ghana and Qatar. 
"My parents never had the opportunity to get a full college education, like me," she said. "They were willing to make sacrifices to give me the support and help that I needed to be successful at UK. They taught me to make sure that my voice is heard and that I am not hiding behind the shadows."
Since her parents didn't have the opportunity to get their college education, Agbozo knew that coming to Kentucky was more than just getting a degree.
"My parents are proud that I'm on track to get my degree, but they are prouder to see the effort that I put in to help and serve others," she said. "I've always carried this inside me, what it means to help others, and I am thankful to my parents for teaching and modeling this to me from an early age."