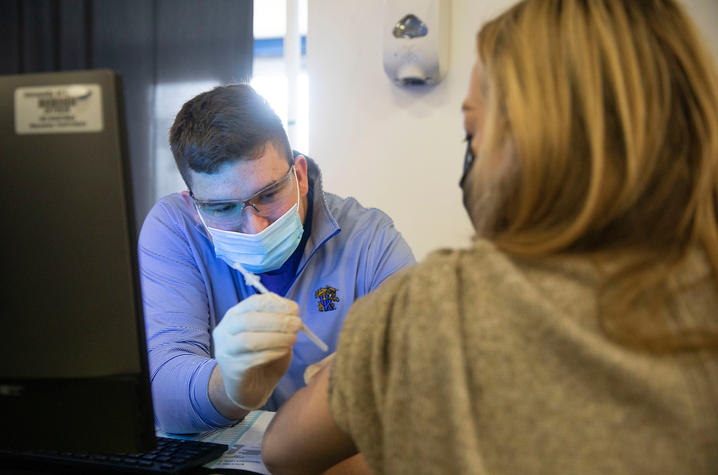 For UK Football Player, Nursing is the Ultimate Team Sport
LEXINGTON, Ky. (Oct. 1, 2021) ­— Colin Goodfellow knows a thing or two about being a team player.
As the punter for the University of Kentucky football team, Goodfellow relies on his teammates to bring the Wildcats to victory. Everyone knows their position and works together. The same model, he says, applies to the dynamic between him and his fellow nurses at UK HealthCare.
"There's a lot of similarity between a nursing staff and a football team," Goodfellow says. "I can't do it without my snapper. In nursing, everyone works together because you don't know what's going to happen next."
Goodfellow graduated from the UK College of Nursing in May 2021, but he opted to return for a fifth year, taking advantage of the NCAA ruling to grant an extra year of eligibility due to the COVID-19 pandemic. This semester, when he's not running drills with his teammates, he's engaged in an independent study with Dean Janie Heath. But balancing the demands of the rigorous nursing program with the schedule of the football team isn't just a unique challenge — it's unprecedented.
"I wanted to be a nurse, so I looked up the best nursing schools — UK was at the top of the list," Goodfellow said. "It's the only school in the country that let me do nursing and football at the same time. And I was the first one to do it."
Goodfellow knew from an early age that he wanted to be a nurse. His parents are both in the medical field — his father is an orthopedic surgeon, and his mother is a nurse. In middle school, Goodfellow had surgery on his ankles. He remembers waking up after the procedure to a team of nurses, cracking jokes with him and helping him feel calm and relaxed in an unfamiliar setting.
"As a sixth grader, it's tough to never have had surgery and to wake up in an environment you're not used to," Goodfellow recalled. "And to wake up to people who really care about you and want you to be safe and healthy is pretty cool."
Like everything else, Goodfellow found that managing his coursework with his practice schedule was also a team effort. His freshman year, he took advantage of the college's tutoring center to learn how to effectively take notes and to manage his time. The support staff for the football team helped him with his scheduling so that he would have enough time for his course and clinic work.
"School comes first, then football," Goodfellow said. "Luckily, UK Football was very willing to work with me and my schedule to make sure I could do both, which I'm very grateful for."
There was one unexpected challenge that no amount of support or tutoring could have prepared him for.
"Being one of four guys in the nursing program is a struggle," Goodfellow said with a laugh. "I came from an all-boys high school. So that was definitely a change of experience."
This semester, when he's not running drills with his teammates, he's engaged in graduate level coursework where he is studying the science behind high performance brain functioning. When Goodfellow is done pulling double-duty as both an SEC punter and a registered nurse, he wants to focus on becoming a nurse anesthetist. He says nurses today, especially new nurses, are facing an extremely challenging work environment in the form of a pandemic, but he believes he and his classmates are more than equipped to meet the challenge.
"Our program does a great job on how to prevent burnout and how to keep motivation as a nurse," he said. "I couldn't have asked for a better home. UK has done a great job shaping me to be a great nurse, a great man and to be a great teammate in nursing."
Goodfellow is featured in this year's institutional television spot. This year's video shows how UK is meeting the moment — from breaking barriers in athletics and research, to educating the next generation of leaders, to vaccinating Kentuckians, to winning championships. 
During the next several months, we will tell the stories of those featured in this spot. 
While you only see a moment of each person on camera, stories like Goodfellow's, and the ones about UK football player Abule Abadi-Fitzgerald, Savannah Lewis and the UK volleyball team, are much more compelling and complex than a single shot in an advertisement. 
Be on the lookout for more stories of the many members of the Wildcat family who are meeting the moment. This is who we are. This is what we do.