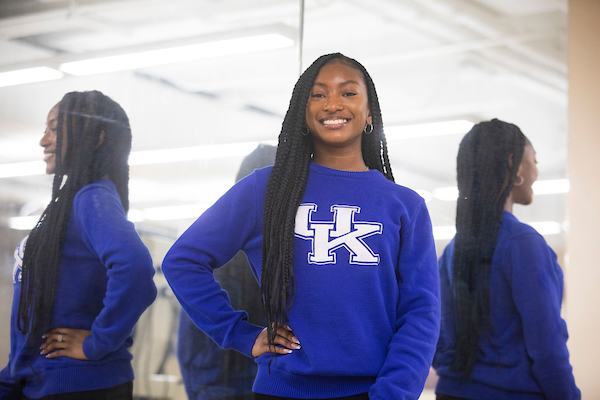 UK Undergrad Follows Her Passion Through College of Health Sciences
LEXINGTON, Ky. (April 14, 2022) — Casey Carter's love of science started early – in elementary school, to be exact.
In third grade, she had ambitions to be a meteorologist. By fifth grade, she was competing in local and state competitions for the Science Olympiad team. By high school, Carter started a partnership with a major university to test a helmet prototype she created in her living room to prevent concussions. Carter, from Columbia, South Carolina, would round out her high school career with the opportunity of a lifetime – to be a part of the Disney Dreamers Academy, a four-day immersive experience that she credits for solidifying her dreams to pursue a career in science.
Carter is a junior in the Human Health Sciences program in the University of Kentucky College of Health Sciences. In addition to her studies and work in the UK BioMotion Lab under the direction of her mentor, Brian Noehren, Ph.D., professor and interim associate dean for research, Carter is pursuing a patent for her helmet, which she hopes to one day see on the field.
"From my first visit to UK, I was impressed with how personable the staff and faculty were," Carter said. "I fell in love with the Human Health Sciences program and all it had to offer. I knew it was a program that really identified with a lot of aspects of medical science that I liked – policy, public health, etc. There was really no comparison in programs at any other university. So many of my experiences since being at UK have shaped me in ways I really could never have imagined."
Noehren says Carter brings a lot of energy and excitement that is infectious.
"I admire her inner strength and resilience and I am truly impressed with all that she does with a great attitude," Noehren said. "I enjoy working with undergraduate students like Casey because they are exceptional and capable of high-level work. I also appreciate the new ideas and energy they bring to the biomotion lab. Their presence elevates all of us and we empower them to help us with research that we hope has a positive impact on the health of Kentuckians and beyond."
If you ask Carter what her career goals are now, her answer is inspiring.
"I want to be a physician and dedicate my time to vulnerable, underrepresented populations to ensure that they feel like they have someone to rely on to give them compassionate and trustworthy care," she said. "I want to do anything in my power to help better my community to produce a more equitable society."