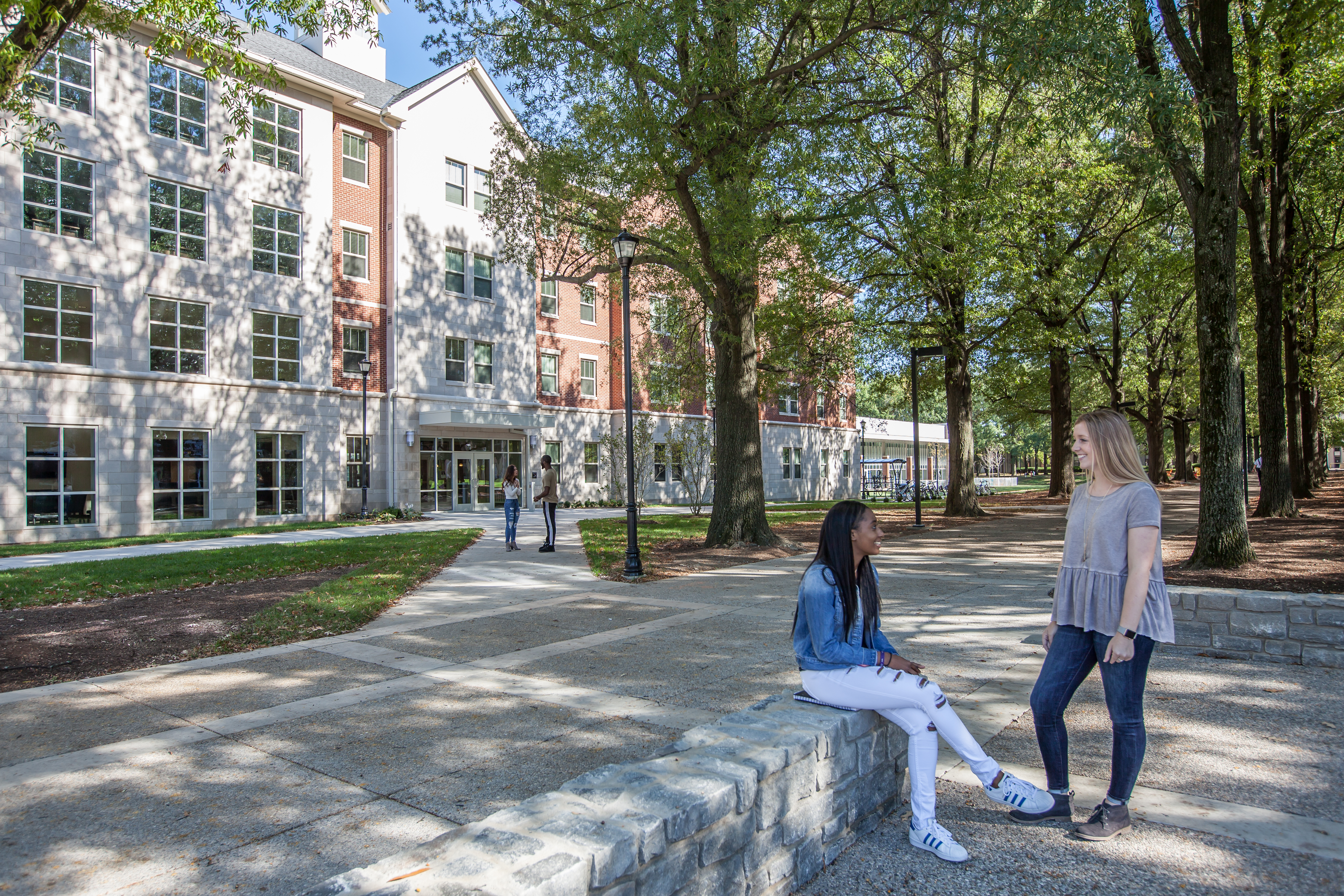 5 Things to Know About the UK Lewis Honors College
LEXINGTON, Ky. (Feb. 16, 2020) — Honors has a long and proud history at the University of Kentucky. The Honors Program at UK dated back to 1958 and provided an enhanced academic experience for thousands of students for over five and a half decades. In the fall of 2015, UK announced its single largest gift in UK history from Tom and Jan Lewis to establish the Lewis Honors College. Tom Lewis, a Kentucky native and UK alumnus, wanted to establish the college to provide a world-class honors experience that is known for the success of its students, the quality of its faculty and curriculum, the respect of its peers and the economic and social progress of the Commonwealth of Kentucky.
Today, the Lewis Honors College is led by Interim Dean Laura Bryan. Bryan joined Lewis in Spring 2019 as the inaugural T.G. Lewis Faculty Scholar in Organizational Behavior, an endowed position in the Lewis Honors College, and was named interim dean in September 2020.
As Lewis is UK's newest college, born from a well-established program at the university, there are often questions about how it works and what has changed from its days as a program. Below, the Lewis Honors College provides answers to some of the most common queries about the college.
What is the Honors College?
The Lewis Honors College provides an alternative course of instruction for intellectually curious students from all programs of study. The honors experience is characterized by its small, seminar-style classes and co-curricular learning experiences. UK Honors students are expected to be citizens of their university and their world, and to possess an inquisitive attitude toward a wide range of ideas and intellectual concepts.
As our students are members of their degree-granting college along with the Honors College, honors prides itself on an interdisciplinary education. A typical honors class can have students representing just about every college on campus. As a result, students develop a curiosity toward a wide range of ideas and intellectual concepts.
The honors curriculum requires 30 hours of honors coursework in UK Core Inquiry, participation in honors experiences, an honors thesis and a choice of coursework campus-wide to fulfill the educational goals of each honors student. A common misconception about honors is that all 30 hours are in addition to a student's credit hours to fulfill their academic major requirements. For most students, many of their honors credit hours can also be counted toward their academic degree requirements and their additional credit hours for honors tend to be far less than 30.
Who teaches for the Honors College?
Twelve full-time faculty positions reside in the Lewis Honors College, one of the most unique aspects of the college when compared to honors colleges nationally. Ten faculty members are responsible for teaching a foundational honors course titled "Knowledge and Society" required for all honors students. These faculty members teach additional honors courses, which include various topical seminars and courses that fulfill UK Core requirements. The remaining two faculty positions are endowed: the T.G. Lewis Faculty Scholar in Organizational Behavior and the Ruth Jones Lewis Faculty Scholar in Entrepreneurship & Free Enterprise, with both faculty teaching courses in these cross-disciplinary areas.
The Lewis Honors College is also home to some of our most beloved and dynamic faculty with academic appointments in other colleges across campus. These faculty teach HON courses or departmental honors sections of courses from the faculty's discipline and are considered honors faculty for the academic year in which they are teaching an honors course. These faculty from across the university often find the energy and engagement in an honors course to be intellectually nourishing and pedagogically freeing. As we encourage faculty to experiment with new course approaches, materials and methods, many find honors classrooms to be interdisciplinary learning laboratories.
The Lewis Honors College is always seeking faculty housed in academic departments outside of honors to join us. There are several ways to teach an honors course. We have a series of four courses that also meet the requirements for UK Core — humanities, social science, STEM, and arts and creativity. We also offer HON 301, which is an interdisciplinary seminar that provides an in-depth examination into a topic chosen by the instructor, typically geared toward upper-class students. We also have HON courses specifically for experiential learning — education abroad (HON 352), service learning (HON 399) and independent research (HON 395).
In addition, faculty are invited to teach departmental honors sections of courses from their home department. These courses are enhanced specifically for honors students through increased interdisciplinary content, use of primary materials, writing and discussion intensity, incorporation of independent research, or other elements that aim to deeply develop critical and analytical skills.  
Faculty interested in teaching an honors course are encouraged to contact the honors director of undergraduate studies, Eric Welch, at Eric.Welch@uky.edu.
Who can apply?
There are a several avenues into the Lewis Honors College. Admission is not just limited to incoming first-year students.
High school seniors applying to UK are encouraged to also apply for admission into the Lewis Honors College and its Pathway Programs by Dec. 1 each year. Those applying are required to complete the additional honors essay included in the UK application or the common application. As the Lewis Honors College employs a holistic selection process, this essay carries a large amount of weight when considering a candidate for admission. We encourage all interested incoming students to apply. 
Upper-level admission (ULA) into the Lewis Honors College is available to transfer students and UK sophomores and juniors.  All students accepted through the upper-level admission process will begin enrollment in the Lewis Honors College starting the fall semester after notification of their acceptance, regardless of when the application was submitted.
Transfer students may apply if they have completed fewer than 60 credit hours and plan to remain at UK for at least four semesters. Applicants must submit all college transcripts and may be asked to submit a high school transcript. Preference will be given to students enrolled in honors colleges/programs at their first institution or members of Phi Theta Kappa at a two-year institution.
UK sophomores and juniors who submit their materials by the December deadline and are accepted into the Honors College will be eligible for honors priority registration for the fall semester. A minimum of 3.6 cumulative GPA is preferred. Students with a GPA below 3.4 are not eligible as students must maintain a 3.4 cumulative GPA to maintain good standing in honors.
Students entering the Honors College as second-year admits (with three years remaining until graduation) will have a reduced curriculum requirement of 21-credit hours. Students entering the Honors College as third-year ULA admits (with two years remaining until graduation) will have a reduced curriculum requirement of 15-credit hours.
Why is there an Honors College fee? 
There is a participation fee of $250 per semester. However, this fee is waived for Pell-eligible students and for students who are off campus for co-op experiences or study abroad for a semester. The fee helps support a personalized, highly engaged, honors community including career advising and personal/professional development counseling for all of our honors students, extensive co-curricular programming, and smaller class sizes essential for the honors experience. 
We have partnered with the Office of Academic Scholarships to insure that students enrolled in the Lewis Honors College will receive some kind of scholarship support for the upcoming academic year. Academic-based scholarships may be awarded to outstanding students who demonstrate the potential for superior academic performance without regard to financial status, race, creed, religious preference or sex.
What are the benefits? 
The Lewis Honors College community provides multiple opportunities and resources to students to gain as much learning and personal growth as they are willing to experience while attending UK.
Each honors student receives a dedicated honors advisor in addition to their major advisor. Honors advisors guide students on how to invest their extensive AP and dual credit work, and then use that flexibility to maximize their academic experience.  
Lewis Honors College students are each paired with counselors in our Center for Personal Development who partner with students in their exploration of purpose by cultivating self-awareness, well-being and career readiness, as well as set both personal and professional goals. The center provides individual appointments and also an array of  activities for students each semester.
Honors students receive priority registration during course scheduling, meaning that they are able to choose and schedule classes before anyone else on campus. This benefit allows students to be very deliberate about which courses/electives they choose to explore during their undergraduate years at UK.
Honors students develop one-on-one relationships with faculty due to the small class sizes and the availability of Lewis faculty in their Lewis Hall offices each day of the week. 
Honors students are provided with a diverse curriculum, which complements their major area of study and prepares them for success as they continue on their academic and career trajectories in a global community. 
Lewis Honors College graduates earn an honors designation on their transcript and diploma. They also receive the Honors Medallion upon successful completion of their honors requirements. 
To connect with Lewis Honors College faculty and staff, visit the faculty and staff directory.