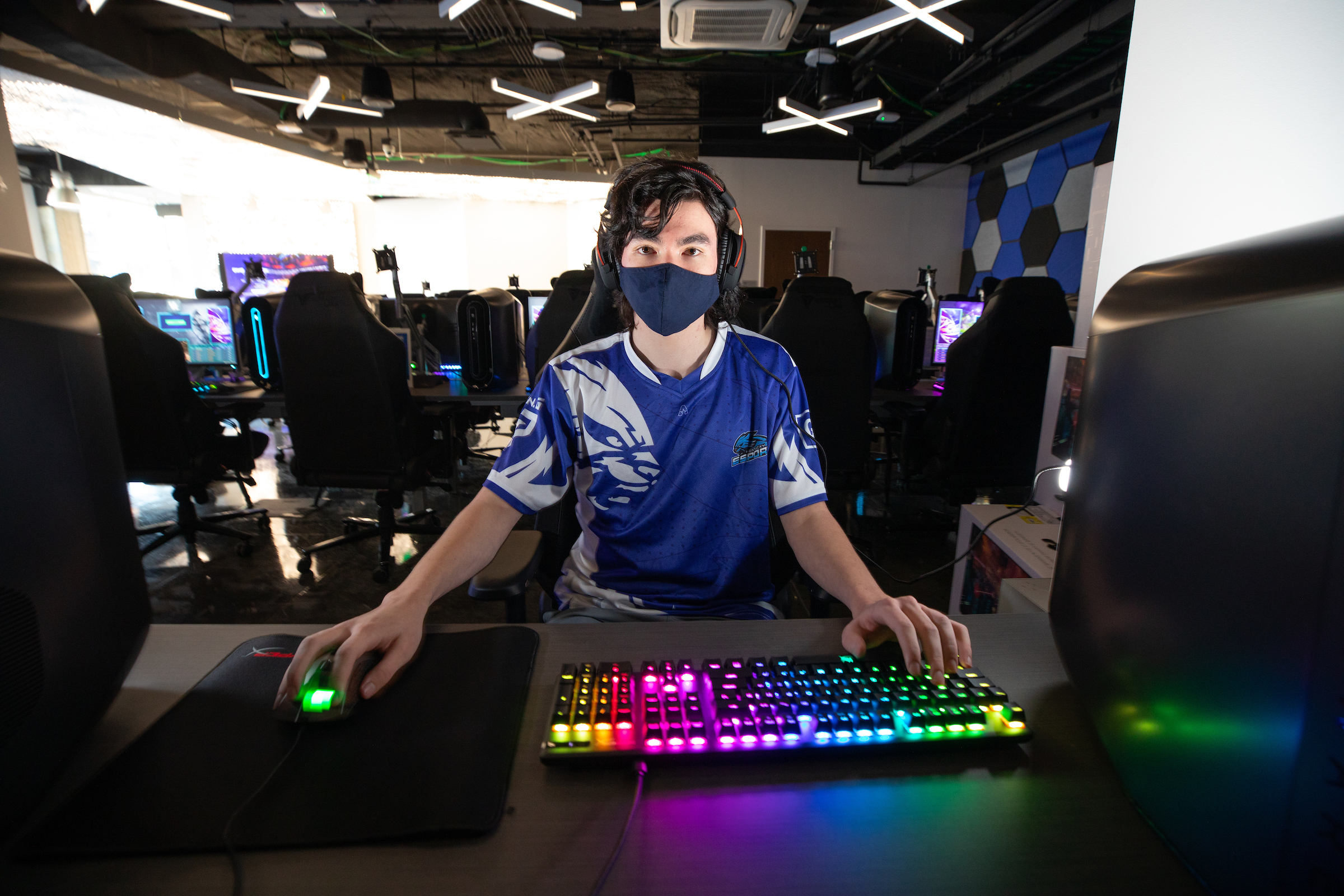 How UK's State-of-the-art Esports Program is Shaping the Student Experience
LEXINGTON, Ky. (April 16, 2021) — The multibillion-dollar esports industry is rapidly growing around the globe and popping up on college campuses across the country. One of the first to take notice in the U.S. was the University of Kentucky. 
The university's esports journey began in 2017 with the creation of its Esports Club. From there, it snowballed into much, much more. 
"As is common with many of the great things that universities do, it all started with the students," said UK Associate Chief Information Officer Heath Price. "The UK Esports Club was organized in 2017 by students that were interested in growing the community and helping different clubs that were focused on individual games come together and better leverage their resources."
"Against this backdrop, starting in 2018, UK began researching and learning more about the esports landscape," Price continued. "Early on in this process, we leaned heavily on one of our key campus partners, JMI Sports, to identify industry leaders in the esports space that we could collaborate with to achieve our mission of engaging our community of students, faculty, staff and prospective students with gaming and esports topics while promoting education and career development."
Enter Gen.G.
Just a year after their research began, in October 2019, UK announced a partnership with the esports company to build a first-of-its-kind global gaming and esports program.
Among the world's leading esports organizations, Gen.G stands out for its trailblazing advocacy of the community values that form the core of UK's vision. The partnership has developed new pathways for student recruitment; classroom and internship opportunities; research avenues for scholars across a variety of colleges; and professional development for alumni.
"From day one of meeting with their team, Gen.G has felt like the right partner," Price said. "And from day one Gen.G has lived up to their stated values, and quite honestly, they have really exceeded them in my opinion."
Now in its third year, the partnership has united the esports community, shaping the student experience for those directly and indirectly involved.
Students like Thomas Bailey, computer science major in the College of Engineering and president of the Esports Club, have witnessed the evolution of esports on campus and, for Bailey in particular, has had a seat at the table in making decisions molding the culture of esports on campus.
"I'm beyond thankful for the opportunities esports has provided me," Bailey said. "I've gotten to meet people in the industry and discuss the growth of esports as a whole and at UK with administration and even sit in and help design The Cornerstone."
Through programs like, Hoops at Home, Give Health, Cornerstone Commentary and a first-of-its-kind esports abroad trip, the university is promoting more than just gaming. The university is creating opportunities to leverage the rapidly growing industry to allow students to find belonging, develop new skills and discover a passion that can kick start a future career. 
For UK alumnus George Bell, esports did all the above.
Prior to becoming involved with esports on campus, Bell described himself as being a bit outside the esports world. 
"I was an avid NBA 2K player but wasn't overly involved in the esports space until senior year when I joined The Cornerstone team," Bell said. "From then on, I became more aware of esports initiatives, the different games, the people who played them and found out it was actually a really cool space with extremely passionate people playing games they've loved their whole lives."
The community Bell formed through his involvement with esports helped him turn what he enjoyed doing in his free time into a career. 
"It helped me open up my mind to the possibilities that existed around a game I've been playing for free my whole life," Bell said. "Since graduation, I've created "Bucket Patrol," where I make YouTube content and do on-air talent work for brands like the NBA, Old Spice, McDonald's, Gen.G and more.
"Without UK's esports program, I would have never made a career making YouTube videos and becoming an on-air talent."
Years ago, it may have been hard to imagine video games as a viable avenue for college students to find belonging, form new skills and score a job, but today the reality of turning the popular past time into, really anything, is here. 
"Since 2018, over half of the 50 states have begun offering esports as a competitive sport at the high school level," Price said. "As an added benefit, the addition of esports to the list of competitive events available for high school students to participate in has provided an avenue for students that have not typically participated in traditional sports to join an esports team and get involved."
According to Business Insider, the global esports industry is slated to continue growing rapidly over the next five years.The same could be said about the university's commitment to growing its presence on campus.
As the state's flagship, land-grant institution, UK has a bold and vital mission — to nurture an outstanding learning community that inspires students, staff and faculty alike, preparing them for an increasingly diverse and technological world.
Through esports, the university is doing just that.
To learn more about opportunities available through esports at UK, click here.