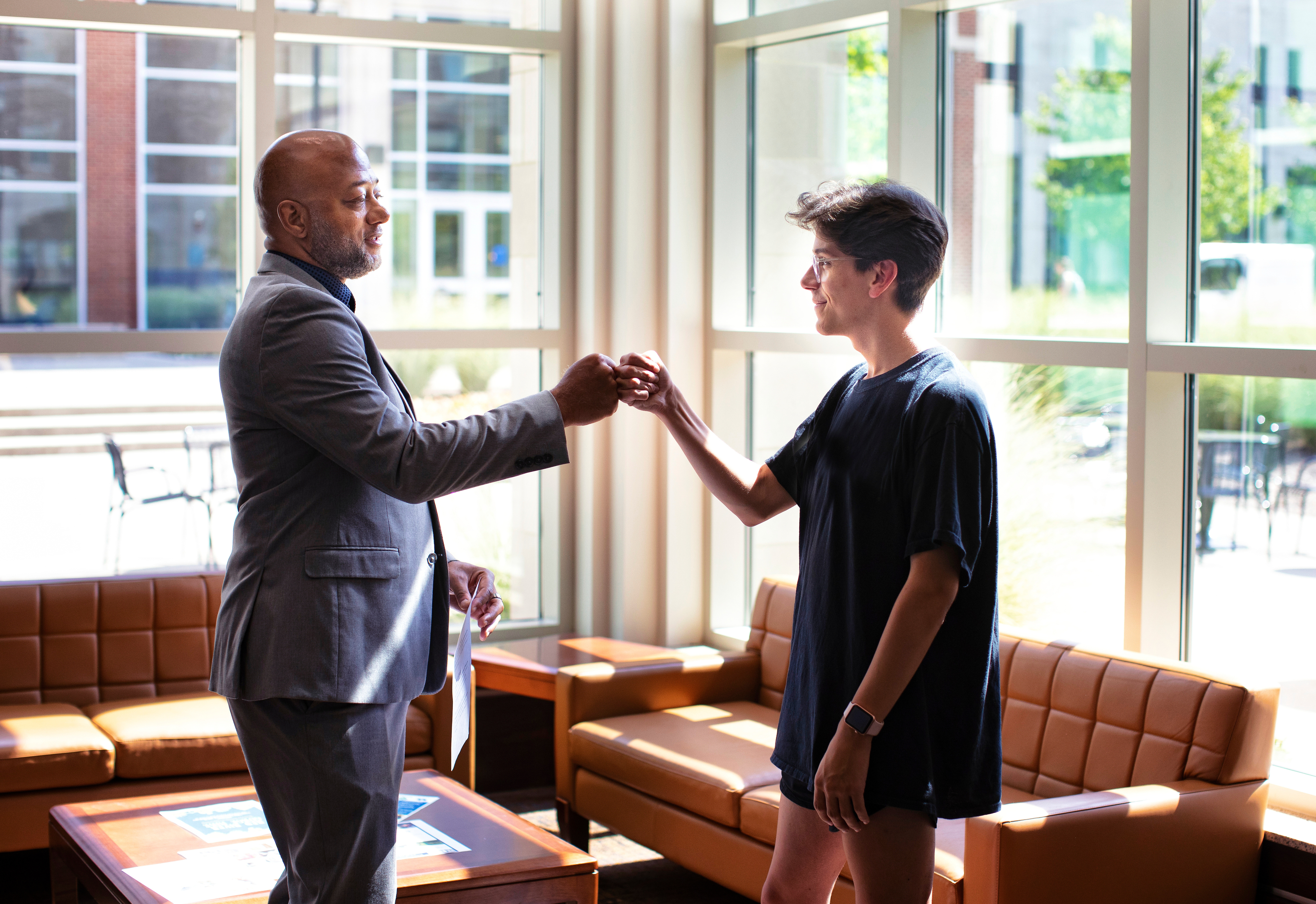 UK's Living Learning Programs: Strong Communities Creating Strong Students
LEXINGTON, Ky. (March 24, 2022) — Entering college comes with many new changes. Whether it's living on campus, getting involved or starting college classes, the first year can quickly become overwhelming. At the University of Kentucky, Living Learning Programs (LLPs) allow you to be part of a tight-knit community focused on your interests, major or career path, which can help make the transition to college easier.
LLPs recognize that college students learn both in and out of the classroom. By surrounding themselves with their peers in the same residential community, students are better equipped to succeed. In fact, studies have shown that participation in an LLP contributes to increased GPA, successful and steady progress toward a degree, increased engagement with faculty and so much more.
LLPs cover a range of different topics, including STEM, education and creative arts, as well as spaces for first-generation students and international students, to name a few. There are a total of 14 LLPs at UK.
"Living in the LLP provided me with such a great community and support system that I would not have had otherwise," said Tanner Durst, a junior biology major at UK. "I am certain that adjusting to campus life would have been more difficult for me if I hadn't made that decision."
Durst was a member of the STEMCats LLP in Fall 2019. Since moving out of the program, he has stayed on board as a peer mentor for new students. He was inspired to do this by his mentor, who helped him find his footing here at UK.
"The academic support that was available to me just by being in the program was invaluable," said Durst. "My mentor had taken the same classes I was taking, so that gave me an easy way to ask questions. They directed me towards other great opportunities and organizations that have shaped my undergraduate experience."
LLPs set students up to make great, lasting friendships. Reilly Cochran, also a STEMCats mentor, came to UK from out-of-state. She was terrified of not knowing anyone and having trouble making friends. Now, she has seen those friendships in many phases — she will even be a bridesmaid in her LLP friend's upcoming wedding!
"I joined to get research experience as a freshman, but I stayed because of the community and sense of belonging it has provided me since day one," said Cochran. "I left my home and was able to create one in my LLP."
Joy Chou, a junior arts administration major, lives in the Creative Arts LLP. As a student in the College of Fine Arts, Chou says the LLP not only helped her make some of her best friends but also connected her with faculty and staff in her college.
"The LLP is an incredibly warm and welcoming environment that has truly helped me feel like part of a passionate, uplifting community during my time at UK," Chou said. "It offers so many different ways to meet new people and has tons of fun opportunities to collaborate with other artists, explore art forms outside of your own and showcase your own talents."
To learn more about LLPs, including how to apply, visit https://www.uky.edu/housing/living-learning-program. The deadline to apply for this fall is May 20, and the deadline for students to accept their invitation is May 27.